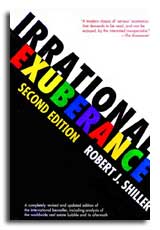 For ordering information, contact Princeton University Press or your local bookseller.
Irrational Exuberance, Second Edition
by Robert J. Shiller
This site offers updated information relating to the book Irrational Exuberance by Robert J. Shiller.
---
Publication Information
Irrational Exuberance by Robert J. Shiller
1st Edition, Princeton University Press 2000
Paperback edition, Broadway Books 2001
2nd edition, Princeton University Press 2005
2nd paperback edition, Currency Doubleday 2006
Other Editions
Arabic: Obeikan Publishers
Chinese simplified characters: Chinese People's University Press and Liang Jing Publishing Studio
Chinese complex characters, China Times Publishing Co.
French: Valor Editions
German: Campus Verlag
Greek: Livanis Publishing Organization
Hungarian: Alinea
Italian: Il Mulino
Japanese: Diamond
Korean: Maeil Business Newspaper
Macedonian: Securities and Exchange Commission
Portuguese: Macron
Spanish: Oceana
Turkish: Rota Publishers
Australia-New Zealand edition: Scribe Publications
Contact Us
You can contact Professor Shiller in several ways. Click for complete contact information.